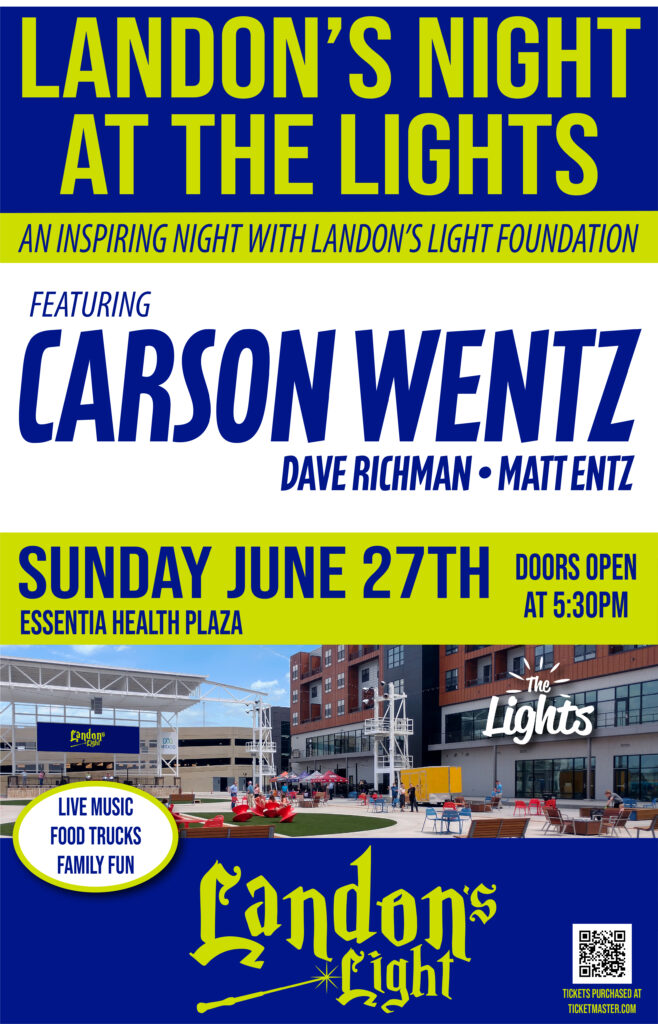 We are excited to announce an evening filled with uplifting messages and conversation from guest speakers Carson Wentz, David Richman, Matt Entz and others. This inspirational night at The Lights will honor Landon and the work the Foundation is carrying out to brighten the lives of others throughout our community and beyond. A special tribute in remembrance of Landon's legacy will be unveiled. This family-based event will also include live music, food trucks and a variety of children's activities. Landon's Night at The Lights will take place at Essentia Health Plaza at The Lights on Sunday, June 27th beginning at 5:30pm.
Featured Speakers:
About Carson Wentz
Carson grew up in Bismarck, N.D., and attended Century High School, where he was a decorated three-sport athlete and class valedictorian. As a senior, he signed a National Letter of Intent to continue his education and play football at North Dakota State University. He was a part of five national championship teams during his time at NDSU, along with twice being named the Most Outstanding Player of the NCAA Championship. Carson, a three-time recipient of the NCAA Elite 90 Award, was recognized as an All-American both athletically and academically. The two-year team captain remains in the top five in school history in passing completions, yards and touchdowns, despite only starting 23 games in his career.
After his performances at the Senior Bowl, NFL Combine, and NDSU's Pro Day, Carson was drafted second-overall by the Philadelphia Eagles in the 2016 NFL Draft. He was named the team's starting quarterback only eight days before his rookie season, in which he set a franchise and NFL rookie record with 379 completions.
Following his first season in the NFL, Carson knew he wanted to use the platform the Lord had given him to make a difference. Together, he and his brother, Zach, launched the AO1 Foundation in July of 2017 with a mission of "uplifting individuals and communities around the world by demonstrating God's love for His people."
Carson's success in the NFL has continued since his rookie season, setting a franchise-record with 33 passing touchdowns as a member of the Super Bowl LII-winning Eagles in 2017. He was also named second-team All-Pro and was voted to his first Pro Bowl following his second season.
Carson is entering his sixth season in the NFL, and his first year with the Indianapolis Colts.
Carson married his wife, Madison (Oberg), in July of 2018, whom he met on a mission trip to Haiti. The couple welcomed their first child, Hadley Jayne, in April of 2020. Carson and Maddie also have three dogs: Henley, Jersey and Riggs.
About David Richman
David Richman is entering his eighth year as the head men's basketball coach at North Dakota State University. In seven seasons as head coach, Richman has led the Bison to three NCAA Tournament berths and five Summit League Tournament championship games. He is the second-fastest coach in NDSU history to reach 100 wins, and he is the fastest in the school's Division I era.
About Matt Entz
Matt Entz was named head football coach at North Dakota State University for the 2019 season after spending five seasons as the NDSU's defensive coordinator. He became the first Division I head football coach to go 16-0 in his first full season at the helm, and the 2019 Bison became the first modern-era college football team in any division to finish a season 16-0.
Ticket Details
Tickets for this event go on sale at 10:00 a.m. on Thursday, May 20, 2021 at Ticketmaster.com. General Admission tickets for this event are priced at $22.00 plus fees. All tickets are General Admission seating. Click HERE to purchase your tickets.