10 Days of Giving – Day 6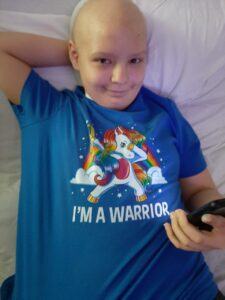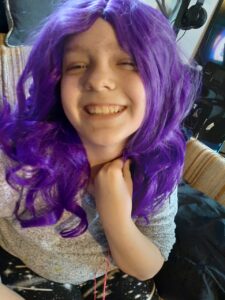 Rhaynon Urban is an 11-year-old girl from Upham, ND. She was recently diagnosed with Stage 4 Ovarian Cancer in September of this year. She is receiving treatment locally at Sanford Medical Center. Rhaynon has also traveled to Cincinnati, OH for treatment and will return in January and again in March. She loves arcade/video games, swimming, reading, and enjoys watching Minot State University hockey. Rhaynon is brave and spunky and reassures her mom and those around her, "We've got this!"
Rhaynon has one sister Dakota (22) and two brothers, Steven (18), and Coy (14). Rhaynon's father, Randy, and mother, Melisa, are working hard to maintain their busy home schedules while traveling with Rhaynon for treatment.
Rhaynon's Day of Giving includes a variety of gifts and surprises for the entire family! Her team of fantastic volunteers worked hard to ensure that Rhaynon will feel special. We are grateful that Rhaynon was discharged, and she was able to return home last week. As a result, her gifts are still a secret and were mailed directly to her. We will schedule a zoom meeting when they arrive at her home. We also hope to lessen the continued financial burden by providing the family with gas and VISA gift cards. As a special treat, the team provided a travel package for the trip to Cincinnati. This includes gift cards to three of Landon's favorite places that he and the Solberg family frequented during his treatment.
A special Thank You to the wonderful team of volunteers that helped to make Rhaynon's Day of Giving personalized and meaningful: Elise Eggiman, Janelle Cheney, and Jessica Mortenson.
We were saddened to hear Rhaynon spiked a fever last night and was admitted to the Minot Hospital. Please join us in providing additional prayers for Rhaynon and her family as they navigate this new cancer diagnosis and continue to fight this courageous battle. Stay Strong sweet Rhaynon, Landon's Light is shining on you!