10 Days of Giving – Day 8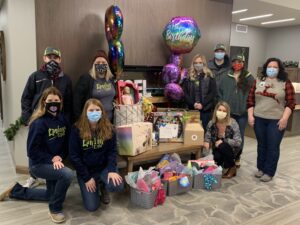 Adelynn Johnson is an 8-year-old girl from Fosston, MN. We were lucky enough to provide Addy's give on her 8th Birthday! Addy has a traumatic brain injury as a result of an ATV accident in June of 2019. She continues to receive ongoing treatment. The real hero in her story is her brother, Nicholas, who administered his newly learned CPR skills to save her life at the scene of the accident. Addy loves reading, crafts, JoJo Siwa and horses.
Addy has one sister Carla (29), and four brothers, Cory (27), Kyle (23), Zach (18), and Nicholas (13). Her parents, Cory and Helen, had their world turned upside down in a moment and have ensured Addy's treatment and outcome are top priority.
Addy's Day of Giving was full of gifts and surprises tailored to her interests. Her team of fantastic volunteers worked their magic to ensure Addy's 8th birthday would be one to remember. We were able to surprise Addy and her parents with a ride in a horse and carriage generously donated by Rusty K Ranch. She will also enjoy attending Buckaroo Camp next summer. Addy received a Space Aliens gift card for a special birthday lunch along with personalized cookies from Farm Sweet Farm. The team made sure Addy's brothers and parents were also made to feel special. The BIG surprise for Addy was waiting for her at home. Her volunteer team enlisted a contractor, Norbert Koller, from OTXteriors and an army of volunteers to provide a room makeover. The team of talented and dedicated individuals were able to completely transform Addy's room in one week. This makeover involved new windows, stonework and sanding and painting the room's original shiplap.
A special Thank You to the wonderful team of volunteers that helped make Addy's Day of Giving personalized and meaningful: Ashley Huot, Kim Schobinger and Jessica Kuhn.
Addy's room makeover was made possible by the generosity of the following group: OTXteriors, Norbert Koller, Kaeden Koller, Ashley Davy, Gannon Kuhn, Casey Scheafer, Gavin Briscoe, Carson Kwasnewski, Samuel Dees, Ashton Lauinger, Sydney Dees, Jenifer Jones-Dees, Kent Swenson Masonry, Jeniece Howland, Roberta Stigen, Anthony Hill, Swen Products and Hebron Brick. The energy behind this group of volunteers was truly inspiring!
Please join us in providing additional prayers for Addy and her family as they navigate ongoing treatment related to her traumatic brain injury. Stay Strong sweet Addy, Landon's Light is shining on you!