10 Days of Giving – Day 10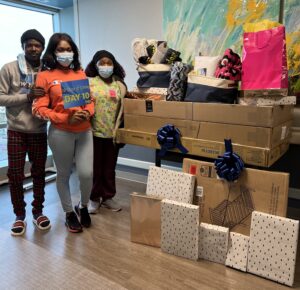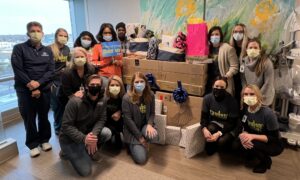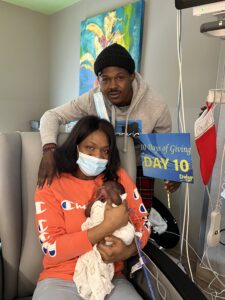 Kouvell Gartei is a micro-preemie who was born on September 6, 2021, weighing less than two pounds. He is thriving in the NICU, however continues to have a very long road ahead. We are grateful for his continued progress and growth, and he recently weighed in at 5 pounds. He is such a sweet baby and loved by all his nurses. Kouvell is a strong and resilient boy and the definition of a true miracle!
Kouvell has a two-year-old sister, Nicole. Kouvell's parents, Benjamin and Kou, recently moved to the area and shortly after had their lives turned upside down in an instant. They are navigating the challenges of this unexpected journey with such faith, grace and love. They have been a constant source of strength for Kouvell and remained by his side each day as he continues to make positive strides.
Kouvell's Day of Giving included a variety of wonderful gifts and necessities. This amazing group of volunteers worked their magic to provide a new crib for Kouvell and a toddler bed for Nicole including mattresses and bedding for both children. They thoughtfully included books, toys and Nicole's favorite, Cocomelon items! We hope to lessen the continued financial burden by providing gift cards for gas and additional necessities for their new home.
A special Thank You to the incredible team of volunteers that worked hard to ensure Kouvell's Day of Giving was personalized, special and meaningful: Stef Ellison, Ashley Engbrecht, Abby Likness, Tracy Hines and Jill Ihry.
Please join us in praying for Kouvell and his family as they continue to navigate his journey to going home. Our Prayers also include continued positive progress and growth, meeting and exceeding milestones and celebrating the miracle of his life this Christmas. Stay strong Kouvell, Landon's Light is shining on you!