10 Days of Giving – Day 2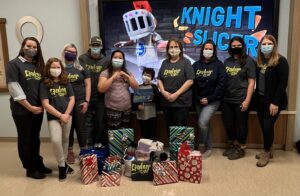 Jeshua Bejona is an 8-year-old boy from Williston, ND. He was recently diagnosed with Leukemia at the end of October. Jeshua is receiving treatment at Sanford Medical Center and he and his family have spent a considerable amount of time away from home over the last few months. Jeshua has shown incredible strength and positivity as he continues to adjust to his new routine. He is in 3rd grade and loves football, sports, Pokémon cards and toys. Jeshua is such a kindhearted and soft-spoken boy with a grateful heart.
Jeshua has one older sister, Aaliyah (10) who he has a close bond with. Jeshua's parents, Jesus and Chenee, are dedicated to ensuring he receives the best possible care and outcome. They are navigating the challenges of traveling and being separated as a family with such positivity and grace. They are determined to come out on the other side of this journey stronger than ever.
Jeshua's Day of Giving included a Nintendo Switch for him and Aaliyah to play together and pass the time on the long trips back and forth from Williston. The family received an annual zoo pass which will provide fun and safe outings during Jeshua's treatment journey. Our wonderful team of volunteers also reached out to Replay Games who graciously partnered with us to provide Jeshua and his family a private family game session. We hope to lessen the continued financial burden by providing the family with travel related gift cards.
A special Thank You to the incredible team of volunteers that worked their magic to make Jeshua's Day of Giving personalized, fun and wonderful: Michelle Anderson. Rachel Brown, Tauna O'Toole, Andrea Payne and Gwen Thompson. Please join us in praying for Jeshua and his family as they continue to navigate his cancer journey and fight this courageous battle. Our Prayers also include safe travels and being able to celebrate Christmas together as a family of four. Stay strong Jeshua, Landon's Light is shining on you!