10 Days of Giving – Day 3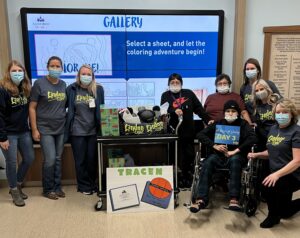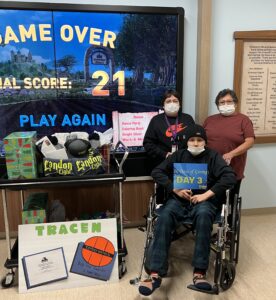 Tracen Defoe is a 15-year-old boy from Red Lake, MN and was diagnosed with a rare form of cancer, Osteosarcoma, in May of 2021. Tracen's facing this challenging journey with incredible strength and determination. He is receiving treatment at Sanford Medical Center and Roger Maris Cancer Center. Tracen enjoys skateboarding and playing video games. He is in the 10th grade and his biggest joy in life is playing basketball.
Tracen has three younger sisters, Lisadie (11), Jacinda (9) and Laila (7). Tracen's grandparents, Pat and Lisa, have had their lives turned upside down in a very short period of time. They, along with his Mom, Tiffany, and Grandma Eve, are doing an incredible job of managing his treatment plan and dedicated to ensuring he receives the best possible care and outcome. They have spent a considerable amount of time traveling and away from home while simultaneously managing their very busy home life.
Tracen's Day of Giving included a Playstation 5, wireless headset and NBA 2k22 game. This is sure to help pass the time during his hospital stays. This incredible team of volunteers also arranged for Tracen to attend a Minnesota Timberwolves basketball game including hotel stay. We included fun presents and treats for each of Tracen's sisters that are sure to bring them joy! We also hope to lessen the continued financial burden by providing the family with travel gift cards.
A special Thank You to the team of volunteers that worked their magic to make Tracen's Day of Giving personalized, fun and special: Elise Eggiman, Jessica Mortenson, Robin Hanson, Danielle Wilkie and Martty Trout. A BIG Thank You to Jeff Munneke with the Timberwolves for your generosity and helping to make Tracen's day even more special! Please join us in praying for Tracen and his family as they continue to navigate his cancer journey and fight this courageous battle. Our Prayers also include safe travels and being able to celebrate Christmas in the comfort of their home as a family. Stay Strong Tracen, Landon's Light continues to shine on you!