10 Days of Giving – Day 4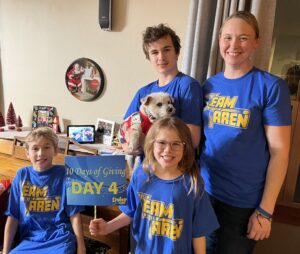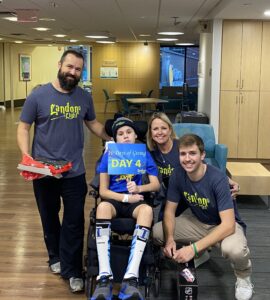 Taren Klein is a 13-year-old boy from West Fargo, ND. He was unfortunately involved in a serious bicycle accident at the end of September, one day after his birthday. He spent nearly 60 days at Sanford Medical Center and recently transitioned to Gillette Children's in St. Paul for rehab. Taren's journey has been filled with emotion and many challenges; however, he continues to make positive progress every day. His strength, courage and determination are an inspiration to our entire community! Taren enjoys playing video games and LOVES playing hockey. He is a kind-hearted boy and loved by all who know him.
Taren has two brothers, Daniel (14) and Mason (10) and one sister, Ellie (9). They miss having Taren with them dearly and rely on Ellie's incredible spunk and comic relief to make them smile. Taren's parents, John Paul and Cassie, had their lives turned upside down in an instant and have navigated this unexpected journey with such faith, grace and love. They have been by Taren's side every single day since the accident and will continue to be with him while simultaneously managing traveling and their very busy home life.
Taren's Day of Giving included a variety of special gifts for Taren's siblings, including an Oculus and Ellie's dream LOL Doll House. This wonderful volunteer group worked their magic to provide this hockey loving family tickets to a MN Wild game to watch them face their favorite team, the Edmonton Oilers. Taren's family received some exciting experiences and helpful services, all generously donated, including snow removal, an escape room experience, a full year of gymnastics for Ellie and a family photo session. We also hope to lessen the continued financial burden by providing the family with travel gift cards.
A special Thank You to the team of volunteers that not only volunteered their time for Taren's give but also financially sponsored the give: Heather Butler, Sara Lingwall, Allie Muehlberg and Payton Kelly. A BIG Thank You to our additional and generous donors: Welk Snow Removal, Puzzled Escape Room, Minnesota Wild, TNT Fitness and Expressions by Josette Hayes. You helped to make Taren's give extra special. We were grateful to have our volunteers, Heather Butler and Mason Thimjon, connect with John Paul and Taren at Gillette. The rest of our group had the privilege to meet Taren's family locally and have Taren and John Paul join on screen. Please join us in praying for Taren and his family as they continue to navigate his lengthy recovery process. Our Prayers also include continued positive improvement, safe travels and being able to celebrate Christmas together as a family. Stay Strong Taren, Landon's Light continues to shine on you!