10 Days of Giving – Day 1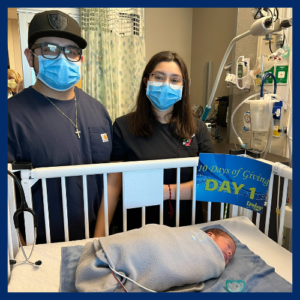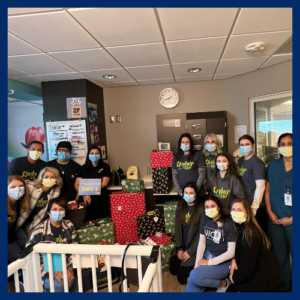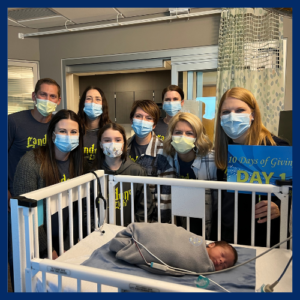 Ceasar is an absolutely adorable, sweet little baby boy from Pelican Rapids, MN who was born prematurely on November 3, 2022. He has spent the past month in the NICU at Essentia Hospital continuing to grow stronger and is making wonderful progress on the road to going home.
Ceasar has a 2-year-old brother, Sergio. Ceasar's parents, Leonardo and Melissa are navigating this unexpected journey with positivity, love and grace. They have been a constant source of strength for Ceasar and remained by his side each day as he continues to make positive strides. They are looking forward to being reunited at home and beginning their next chapter as a family of four.
Ceasar's Day of Giving was filled with a variety of wonderful gifts and necessities. This amazing group of volunteers thought of every item, big and small, needed to bring a new baby home. They also included a beautiful new swing, baby monitor, bassinet and lots of sweet and snuggly clothes. They thoughtfully chose fun items and toys to help Sergio celebrate becoming a BIG brother. We also hope to lessen the continued financial burden by providing gift cards for additional necessities when they settle into life at home.
A special Thank You to the incredible team of volunteers that worked their magic to make Ceasar's Day of Giving personalized, fun and extra special: Alexa Boyer, Ashley Bakkegard, Heather Morris, Shantae Schumacher and Michelle Hogan.
Please join us in praying for Ceasar and his family as they continue to navigate this journey. Our prayers include Ceasar's ability to pass his upcoming car seat test, so he is able to be home in time to celebrate his 1st Christmas! Stay Strong Ceasar, Landon's Light is shining Brightly on you!