10 Days of Giving – Day 4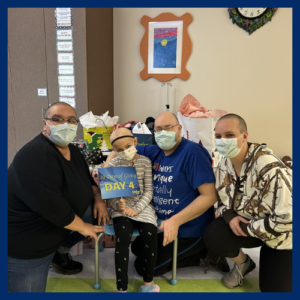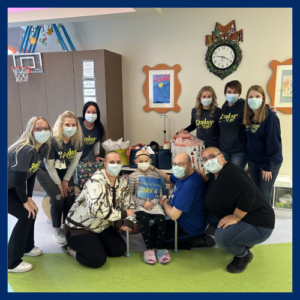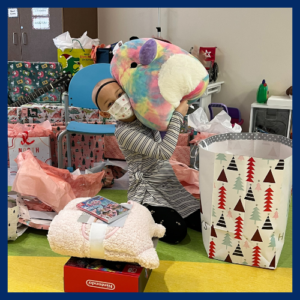 Grace is a 7-year-old girl from Alexandria, MN who was recently diagnosed in October with Acute Myeloid Leukemia (AML). She is currently receiving treatment at Roger Maris Cancer Center and Sanford Children's Hospital. Grace has a sweet and calm demeanor with a smile that shines brightly through her eyes. She is bravely handling each new challenge of her cancer journey and is an inspiration to all that have the privilege to meet her.
Grace is surrounded by an army of people who love her including her sweet siblings, Eric, Addison, Khloe, Jacobi, Joshua and Linden who are anxiously waiting for her to return home. Her parents Erin & Maria and Tish & Jammin have had their worlds turned upside down in the past six weeks. They are navigating Grace's treatment plan, busy households, traveling and being separated as families with strength and faith.
Grace's Day of Giving was filled with a variety of fun and exciting items including a Nintendo Switch, play kitchen and her very own guitar! This amazing group of volunteers thoughtfully purchased Christmas gifts for Grace and each member of her family to be placed under their trees for Christmas Day. We are so grateful for the opportunity to help with holiday preparation so Grace's parents can focus on her treatment and the rest of their family's daily needs. We also hope to lessen the continued financial burden by providing the family with travel-related gift cards.
A special Thank You to the incredible team of Sanford ICU nurses that volunteered to make Grace's give extra special: Abby Likness, Mackenzie Brynn, Kelsi Marschke, Brooke Top, Lauren Neuschwander and Marcy Denzer. We also appreciate the thoughtful and important care you provide adults going through challenging medical situations!
We also want to express our sincere gratitude to Advantage Realtors for their generous donation of a Nintendo Switch and games to help Grace pass the time in the hospital. She was overjoyed to receive this gift!
Please join us in praying for Grace and her family as they continue to navigate her treatment plan. Our Prayers also include the hope that Grace's treatment will go well these next couple of weeks so she can be home for Christmas! Keep fighting Grace, Landon's Light is shining Brightly on you!