10 Days of Giving – Day 5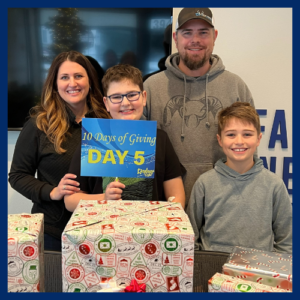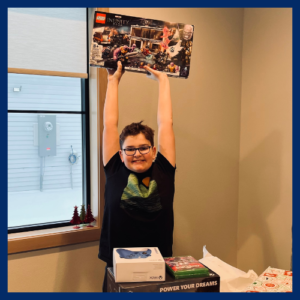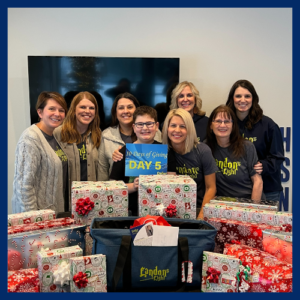 Finn is a charismatic, energetic and all-around joyous 11-year-old boy from Carrington, ND. He was diagnosed with melanoma this past spring followed by surgery, a hospital stay, and his first immunotherapy treatment at Mayo Clinic in June. He will continue to receive treatment once per month for a year at Roger Maris Cancer Center.
Finn has a kind, sports loving younger brother, Cooper, with whom he shares a special bond that is visible to everyone around them. This dynamic duo both have smiles that light up the entire room and their joy radiates and is highly contagious. Finn's parents, Dana and Andrea, have navigated this unexpected journey with an incredible amount of faith, strength and positivity.
Finn's Day of Giving was filled with a variety of fun and exciting items. The highlight was an Xbox X along with all the accessories and games that he was beyond anxious to get home to play. This amazing group of volunteers also showered Cooper with thoughtfully chosen gifts that lit up his face. We have a few more surprises being mailed to Finn and Cooper who happen to love Dude Perfect! We also hope to lessen the continued financial burden by providing the family with travel-related gift cards.
A special Thank You to the incredible team of volunteers that worked their magic to make Finn's Day of Giving extra special and personalized: Kristin Swenson, Lindsay Gladue, Lindsey Gunderson, Angie Froehlich & Kathy Bonnichsen.
Please join us in praying for Finn and his family as they continue to navigate his courageous battle with cancer. Our prayers include successful treatment and continued positive scans. Keep smiling Finn, Landon's Light is shining Brightly on you!