10 Days of Giving – Day 6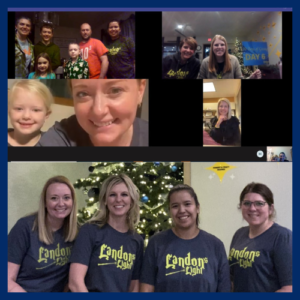 Elias Schiele is an incredibly resilient and brave 11-year-old boy from Minot, ND. He has spent the past 4 years battling some big medical challenges. Elias was first diagnosed with B Cell Acute Lymphoblastic Leukemia in 2019. He received an additional diagnosis Guillain-Barre Syndrome in 2021 and unfortunately in March of 2022 received the devastating news that he had relapsed and was once again having to battle leukemia. Elias recently completed a successful stem cell transplant at Mayo Clinic and was able to return home at the end of November. He has also spent a considerable amount of time receiving treatment in Bismarck and at Sanford Childrens and Roger Maris Cancer Center in Fargo.
Elias has an older brother, Anderson, and a younger sister, Annabelle. His parents, Tyrel and Tiffany, have spent the past four years dedicated to ensuring he receives the best possible care and outcome. They have navigated the challenges of a busy household, traveling back and forth for treatment, while also being separated as a family, with strength and grace.
Due to appointment scheduling changes, we scheduled Elias' give virtually and we were thrilled to meet this amazing family on screen. The stars aligned and our wonderful volunteer, Danielle, was able to present the give in person. We were able to celebrate and cheer loudly with the family after they received much needed positive test results which indicated continued success from the stem cell transplant and Elias is cancer free!
Elias' Day of Giving includes a fun and exciting experience. He loves watching football and our amazing volunteers were thrilled to provide a Vikings Game experience for Elias and his entire family! This will be their first NFL game and they were overjoyed to have the opportunity to celebrate together as a family after a very long and strenuous road. The wonderful group of volunteers wanted to ensure this was a weekend full of fun memories and also included tickets to the Glow Holiday Festival in Saint Paul. We also hope to lessen the continued financial burden by providing the family with travel-related gift cards.
A special Thank You to the incredible team of volunteers that worked their magic to make Elias' Day of Giving nothing short of spectacular: Danielle Wilkie, Betsy Erickson, Jessica Mortenson, Kelley Utt and Martty Trout.
We would also like to express our sincere gratitude to the MN Vikings for generously donating the game tickets, The Thielen Foundation for donating hats for the entire family and the Radison Red for the hotel stay. Thank you for helping us provide a joy-filled experience for this deserving family!
Please join us in praying for Elias and his family as they continue to navigate his cancer journey. Our prayers include continued positive scans, safe travels and the ability to enjoy uninterrupted family time. Keep fighting Elias, Landon's Light is shining Brightly on you!