10 Days of Giving – Day 5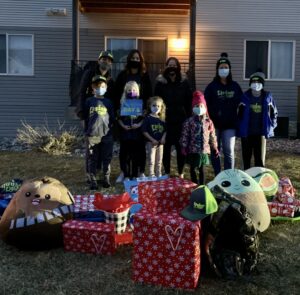 Wyatt Teklenburg is an 8-year-old boy from Fargo, ND. He was diagnosed with T-cell Lymphoblastic Lymphoma in February of 2020 and has been incredibly brave throughout his journey this year. He is currently receiving ongoing treatment locally at Roger Maris Cancer Center. Wyatt has a variety of interests including superheroes, laser tag and Bakugans. A Nintendo Switch was on the top of his wish list.
Wyatt has three younger brothers, Gaynn (6), Bradyn (4), and Avery (2). Wyatt's parents, Wolfgang and Kim, are extremely busy managing the daily demands of 4 busy boys while simultaneously ensuring Wyatt has the best treatment and outcome.
Wyatt's Day of Giving includes a variety of gifts and surprises for the entire family. This fantastic team of volunteers worked their magic and delivered with a Nintendo Switch and games. We were able to surprise Wyatt and his brothers by bringing the gifts to their home. We all enjoyed meeting Wyatt and his family outside of their home in a physically distanced appropriate way.
A special Thank You to the team of volunteers that helped to make Wyatt's Day of Giving personalized and amazing for the entire family: Cara Christenson, Michelle Anderson, Darci Miller, and Marah Olson.
Please join us in praying for Wyatt and his family as they continue to navigate the cancer journey and fight this courageous battle. Stay Strong Wyatt, Landon's Light is shining on you!