10 Days of Giving – Day 9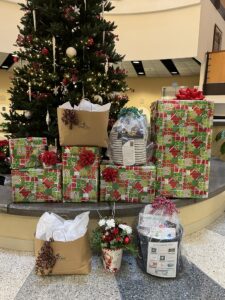 Huxon Cossette is the sweetest 8-month-old boy from Lake Park, MN who was diagnosed with a significant heart defect, VSD and Aortic Arch with Aberrant Left Subclavian artery. He unfortunately went into heart failure and thankfully underwent a successful heart surgery at Children's Minnesota Hospital on August 6th. He is receiving follow-up care at Essentia Health. Huxon is incredibly brave and has shown such resiliency over the past 8 months. He is an inspiration to all that know him and a true Heart Warrior! Huxon also has the cutest and best facial expressions! It was a true joy to meet him and his parents.  

Huxon's parents, Brandon and Paige, have faced many challenges since his arrival in March. They have navigated Huxon's heart condition, surgery and treatment plan with such grace, faith and strength. While Huxon was in the hospital for his heart surgery, they simultaneously received the heartbreaking diagnosis that Brandon has Non-Hodgkins Lymphoma. This incredibly sweet family needs your prayers.

Huxon's Day of Giving was filled with a variety of fun and exciting items including toys, books, and a ride on/push car that will grow with him. Huxon also received diapers and wipes for the foreseeable future as well! We hope to lessen the continued financial burden by providing gift cards for travel related expenses. This amazing group of volunteers were determined to provide the entire family with memorable experiences and pampering, all which were generously donated. They worked with Santa Magic to provide a safe and healthy way for Huxon to meet Santa and take his 1st Christmas Pictures. They provided a couple of much needed date night dinners, tickets to a Fargo Force Hockey game and a family photo session. They showered Paige with some much-needed pampering including the cutest clothing items, facial, mani-pedi, massage, and hair appointment. Brandon will be heading to his favorite store Scheels as well.
A special Thank You to the incredible team of volunteers that worked their magic to make Huxon's Day of Giving personalized, fun and extra special: Anna Vandevoort, Michael Vandevoort, Danielle Hewson, Alisha McDonald and Michaela Dye. A BIG Thank You to Shop Chic Boutique, Fargo Center for Dermatology, Santa Magic, Texas Road House, Tina Kay Nails, Fargo Force, All About you Massage, Jasper/Rosewild, CJ Photography, Lindsey's Lashes & Hair Bar, and Judie Vandevoort for your incredible generosity and helping us bring extra love and light to the Cossette family! Please join us in praying for Huxon and his family as they continue to monitor his heart condition and follow-up care as well as courageously fight Brandon's cancer. Our Prayers also include positive treatment results and being able to celebrate Huxon's 1st Christmas in the comfort of their home! Stay Strong Huxon, Landon's Light is shining Brightly on you!