10 Days of Giving – Day 10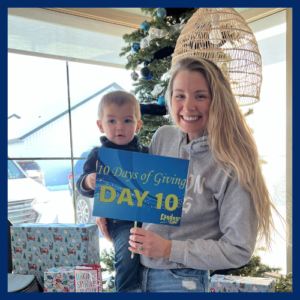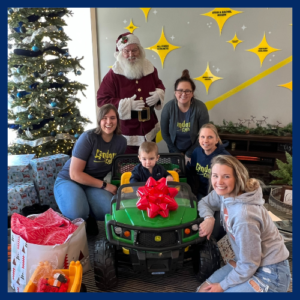 Weston is a tender hearted and sweet 20-month-old boy from Garrison, ND who was diagnosed with B-Cell Acute Lymphoblastic Leukemia in March of 2022. He is currently receiving treatment at Roger Maris Cancer Center and has been such a trooper as they consistently make the long trip to Fargo. Weston loves to be outside in all types of weather and his favorite snack is currently a beef and cheese stick combination! His dapper style and sweet dimples had all of us wrapped around his finger and he was SO worth the wait!
Weston's parents, Cody and Nancy, have had their world turned upside down in the past year. They are navigating the challenges of receiving this unfortunate diagnosis, traveling for treatment and the commitment to ensuring Weston has the best possible care with such grace, faith and love! Weston's love for his sweet Mom is so evident in the way he looks at her and gives her sweet hugs. His Dad was unable to be at the give, but Weston's eyes LIT up when Nancy and Cody were on FaceTime during the give.
Weston's Day of Giving was filled with a variety of fun and exciting toys and favorite snacks! This amazing group of volunteers chose the best gifts to keep Weston active both indoors and outdoors all year long. They also ensured he would have enough beef and cheese sticks to get him through the upcoming winter months. The BIG Surprise was a John Deere Gator which will provide hours of outdoor entertainment. The wonderful volunteers wanted to make Weston's give extra special and arranged for a magical visit from SANTA! This was Weston's first visit with the BIG GUY! We also hope to lessen the continued financial burden by providing the family with travel-related gift cards.
A special Thank You to the incredible team of volunteers that worked their magic to make Weston's Day of Giving personalized, fun and extra special: Melissa Hanson, Anne Keller, Ashley Engbrecht, Chloe Gemmil and Anika Fredrick. An additional thank you to Bridget Belter for her assistance in arranging the John Deer Gator.
We would also like to express our sincere gratitude to RDO Equipment Co., Casselton, ND for generously donating the John Deere Gator. Thank you for helping us provide a joy-filled experience for this deserving family!