10 Days of Giving – Day 7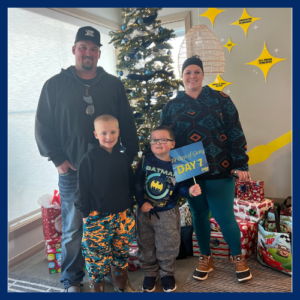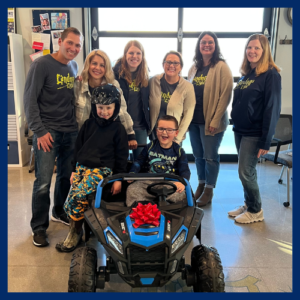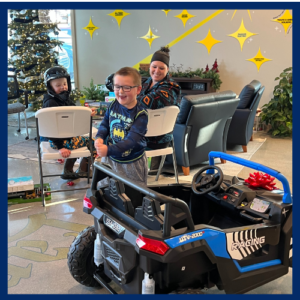 Conley is a joy filled, kind and extraordinary 5-year-old boy from Center, ND. In April of 2021, doctors discovered a 5cm mass and extra fluid on his brain stem. He immediately underwent brain surgery to remove the tumor and spent 29 days in the ICU and pediatric floor at Sanford Children's in Fargo. Conley's cancer journey has been filled with additional challenges related to his vision and mobility and he continues to have numerous therapy sessions and appointments. In August 2022 he regained the strength to walk again and what a beautiful sight it is to see him walking on his own. Conley has faced a significant amount of adversity and he continues to remain extremely positive and lights up the entire room with his smile, big heart and dance moves!
Conley and his older brother, Laramie, love to be outside helping on the farm and green tractors are their favorite! Conley's parents, Dan and Amber, have navigated the challenges of running a busy household and farm all while traveling for therapy appointments and treatment with an incredible amount of faith, strength and grace.
Conley's Day of Giving was filled with a variety of fun and exciting gifts and favorite snacks! This amazing group of volunteers chose the best farm related toys so the boys can continue to practice farming inside too! The BIG surprise was a kids ride on UTV vehicle. This will allow Conley to navigate outside with a little more ease and keep up with Laramie and his parents on the farm. The volunteers thoughtfully included handmade blankets and travel bags for the boys. We also hope to lessen the continued financial burden by providing the family with travel-related gift cards.
A special Thank You to the incredible team of volunteers that worked their magic to make Conley's Day of Giving personalized, fun and extra special: Kristen Scholand, Tennille Albertson, Jill Ihry, Kaylee Enger and Bridget Belter. Conley was extremely grateful for his gifts and made sure to give each of the special ladies a big hug and kiss on the cheek! He had the entire room wrapped around his sweet little finger!
Please join us in praying for Conley and his family as they continue to navigate his courageous battle with cancer. Our prayers include continued positive progress and scans as well as safe travels as they continue to travel back and forth to Fargo. Keep smiling Conley, Landon's Light is shining Brightly on you!