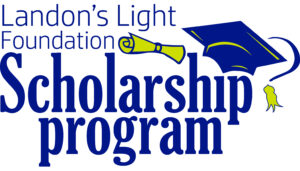 Landon's Light Scholarship Recommendation
The Landon's Light Foundation supports children battling serious medical illness to provide hope and joy during their difficult journey. The Foundation also inspires children to grow in their academics, faith, and physical well-being, so they may live as the best version of themselves.
Our vision is Be the Light and Spread Kindness
Purpose: The Landon's Light Foundation was created in memory of Landon Solberg, a twelve-year-old, West Fargo boy that fought a courageous battle with brain cancer and passed away September 17, 2019. The Foundation was formed to share pieces of Landon that brought so many throughout our community together. Cancer did not define Landon. His faith, kindness, compassion, strength, and courage defined him. The values he demonstrated throughout his life served as an inspiration to many. The Foundation honors the lasting impact of his life by shining his light and inspiring others to simply "Live like Landon."
The Landon's Light Scholarship is focused on inspiring academic growth through support of students pursuing their college degree following high school graduation. This scholarship recognizes students for demonstrating the core values important to Landon, which include his faith, kindness, compassion, strength, and courage.
The core values highlighted in this scholarship are essential to carry students through joyful, significant, and challenging moments throughout their life. These core values allowed Landon to enjoy life to its fullest despite the adversity he faced throughout his difficult cancer journey.
Recommendation Form: To be completed by a teacher, employer, or community member. Please compare this applicant to his/her peers as well as consider your perspective based on the setting in which you know him/her. Please complete the recommendation after the student has completed their application.