10 Days of Giving – Day 1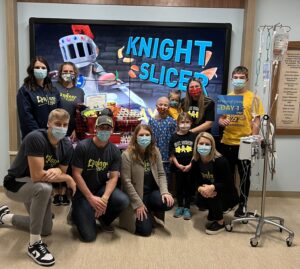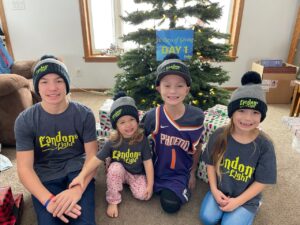 Alex Gullingsrud is a 9-year-old boy from Red Lake Falls, MN and was recently diagnosed with a rare form of cancer, Osteosarcoma. Unfortunately, due to the location of one of Alex's tumors and the ineffectiveness of the chemo, the doctors had to amputate his leg. Alex has shown incredible bravery throughout his extremely challenging journey and is facing adversity with such courage and faith. He is receiving treatment at Sanford Medical Center and Mayo Clinic Hospital. Alex loves everything sports related and has several favorite teams, including the Phoenix Suns and the NDSU Bison! Alex is the sweetest and kindest boy who has a love for all creatures including turtles.
Alex has one amazing older brother, Ben (12), and two of the sweetest younger sisters, Gracie (6) and Corin (2). Alex's parents, Mike and Nikki, have had their lives completely turned upside down in a very short period of time. They continue to be highly committed to his treatment plan and dedicated to ensuring he receives the best possible care and outcome. They have been by Alex's side every step of the way while also managing their very busy home life. We are overjoyed Alex was able to go HOME this past weekend and have the opportunity to spend time together as a family.
Alex's Day of Giving included providing him with all the gear required for a true sports fan. He will now be fully outfitted for every sports season! This incredible team of volunteers also made sure to provide perfectly tailored gifts for the entire family as well. The Gullingsrud family has had a long-standing tradition of visiting Santa's Village at Rheault Farm. Our wonderful volunteers reached out to Santa and his elves, and they will be providing a private visit with Santa for the entire family. What a beautiful way to keep this tradition for their family while maintaining Alex's health as the top priority.
A special Thank You to the team of volunteers that worked their magic to make Alex's Day of Giving personalized, fun and wonderful: Kristin Swenson, Deanne Trieglaff and Lindsey Gunderson.
Please join us in praying for Alex and his family as they continue to navigate his cancer journey and fight this courageous battle. Our Prayers also include continued recovery, safe travels and being able to celebrate Christmas in the comfort of their home. Stay Strong Alex, Landon's Light continues to shine on you buddy!