10 Days of Giving – Day 6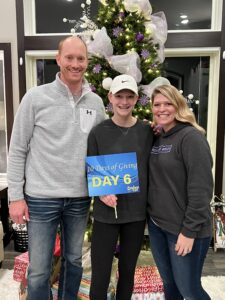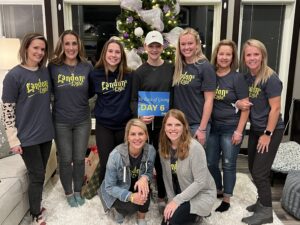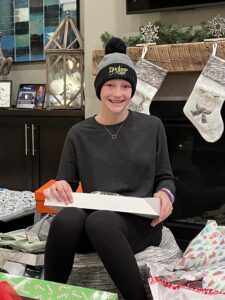 Briley Thompson is a 14-year-old girl from Fargo, ND who was diagnosed with State 2 Hodgkins Lymphoma in October. She is currently receiving treatment at Roger Maris Cancer Center. Briley and her family have faced this unimaginable journey with incredible strength and unwavering faith. She is an 8th grader at Liberty Middle School and is an amazing athlete and plays basketball, volleyball and fast-pitch softball. She is chasing big dreams of playing D1 softball and we have no doubt her dedication and work ethic will get her there! Briley also has a special connection to Landon; her travel basketball team used to scrimmage against the team Landon played on. Briley is kind, sweet, mature far beyond her years and has full faith in God's plan.
Briley's parents, Greg and Rachal, have had their world completely turned upside down in a few short months. They have been by her side every step of the way and are highly dedicated to ensuring she receives the best possible care and outcome. They have navigated Briley's journey with a great deal of strength, grace, and faith. Briley and her family continue to be an inspiration to our entire community.
Briley's Day of Giving included a variety of fun presents and surprises tailored to bring any teenager Joy. We had the inside scoop on all things trending that a teen girl would want from one of our volunteers and Briley's friend, Marley. This amazing group of volunteers delivered a mini-shopping spree and provided Briley with all her favorite things and a little extra joy this holiday season! We also provided Greg and Rachal a gift card for a much-needed date night!
A special Thank You to the incredible team of volunteers that worked their magic to make Briley's Day of Giving personalized, fun and special: Hadley Steffen, Kim Steffen, Brittany Dvorak, Beth Mauch, Lisa Budeau and Marley Budeau.
Please join us in praying for Briley and her family as they continue to navigate her cancer journey and fight this courageous battle. Our Prayers also include continued strength and positive scans coming soon. Keep fighting Briley, Landon's Light is shining on you!
BELIEVE LIKE BRILEY