10 Days of Giving – Day 8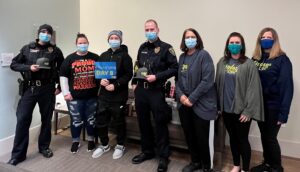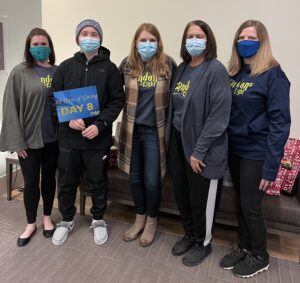 Brodie Gilbertson is a 14-year-old boy from West Fargo, ND. He was recently diagnosed with B-cell Acute Lymphoblastic Leukemia (ALL) in October. Brodie is undergoing treatment at Sanford Roger Maris Cancer Center (Fargo, ND) and Sanford Medical Center (Fargo, ND). He continues to face each new obstacle and hurdle with incredible determination and strength. Brodie is a freshman at West Fargo High School and is unfortunately unable to attend in-person class due to risk of infection. He enjoys the outdoors, likes to play video games and has BIG dreams of becoming a police officer. He is currently the youngest cadet in the West Fargo Police Academy. Brody is extremely kind and well-mannered and exudes a maturity far beyond his age.
Brodie's Mom, Vanessa, has quickly had her entire life turned upside down over the course of the last couple of months. She and Brodie have a special relationship and she is navigating this unexpected and heartbreaking journey with such faith, strength and love. She continues to be by Brodie's side every step of the way while simultaneously managing both her work and their home life.
Brodie's Day of Giving included a variety of special gifts tailored to his interests. This amazing group of volunteers made sure to pick out the top trending teenage clothing items that are both stylish and comfy for his treatments. His give also included few new games and gift cards for his PS5 and the West Fargo Police Department generously donated a few fun swag items. The volunteers made sure to pamper Vanessa through the incredible generosity of our friends at Grateful Cratefulls. We also hope to lessen the continued financial burden by providing gift cards for gas and food delivery.
A special Thank You to the incredible team of volunteers that worked their magic to make Brodie's Day of Giving personalized, fun and meaningful: Pat North, Ashley Bakkegard, Heather Morris, and Kristen Scholand. Thank You to Grateful Cratefulls for your continued support and generosity. Last but certainly not least, a BIG Thank You to our officer friends at the West Fargo Police Department who joined us to deliver a little extra joy to Brodie and Vanessa. Please join us in praying for Brodie and his family as they continue to navigate his cancer journey and fight this courageous battle. Our Prayers also include positive treatment results and being able to celebrate Christmas in the comfort of his home. Stay Strong Brodie, Landon's Light continues to shine on you!