10 Days of Giving – Day 2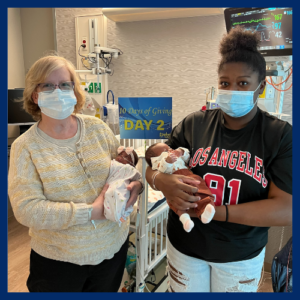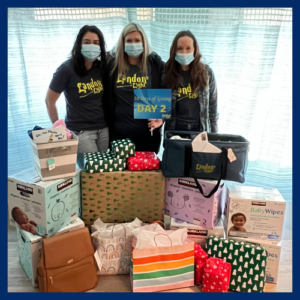 Kingston and Serenity are a beautiful dynamic duo from Henning, MN who were born prematurely on November 8th, 2022. Kingston weighed 4 lbs. 2 oz. and Serenity weighed 2 lbs. 14 oz. at birth. The twins have spent the past month being well cared for and growing stronger each day in the NICU at Essentia Health. We are grateful Kingston was recently able to go home, however Serenity has a longer road ahead and remains in the NICU. Kingston is a charmer and had all of the Landon's Light ladies swooning and lining up to hold him!
Kingston and Serenity's Mom, Olivia, has had her world turned upside down and is navigating the challenges with such grace and strength. Currently, Olivia and the twins' grandmother are taking turns driving back and forth daily between home and the NICU to provide support for both of these sweet miracles.
Kingston and Serenity's Day of Giving was filled with a variety of wonderful gifts and necessitates. This amazing group of volunteers included a beautiful baby swing, an assortment of books, and double the diapers and wipes! They thoughtfully included beautiful handmade baby blankets and chose a great hands-free diaper bag for Olivia. We also hope to lessen the continued financial burden by providing gift cards for additional necessities as they settle into life at home.
A special Thank You to the incredible team of volunteers from the Barkus Law Firm that worked their magic to make Kingston and Serenity's Day of Giving personalized, fun and extra special: Tracy Reames, Nicole Bredahl, Courtney Kosse, Trent Barkus, Lisa Ventin and Morgan Heinemann. Thank You to Barkus Law Firm for generously sponsoring this wonderful give.
Please join us in praying for Kingston and Serenity. Our prayers include continued positive progress and growth, meeting and exceeding milestones and celebrating their first Christmas together. Stay strong Kingston and Serenity, Landon's Light is shining Brightly on you!