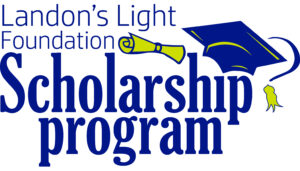 Landon's Light Scholarship Program Application
The Landon's Light Foundation supports children battling serious medical illness to provide hope and joy during their difficult journey. The Foundation also inspires children to grow in their academics, faith, and physical well-being, so they may live as the best version of themselves.
Our vision is Be The Light and Spread Kindness
Purpose: The Landon's Light Foundation was created in memory of Landon Solberg, a twelve-year-old, West Fargo boy that fought a courageous battle with brain cancer and passed away September 17, 2019. The Foundation was formed to share pieces of Landon that brought so many throughout our community together. Cancer did not define Landon. His faith, kindness, compassion, strength, and courage defined him. The values he demonstrated throughout his life served as an inspiration to many. The Foundation honors the lasting impact of his life by shining his light and inspiring others to simply "Live like Landon."
The Landon's Light Scholarship is focused on inspiring academic growth through support of students pursuing their college degree following high school graduation. This scholarship recognizes students for demonstrating the core values important to Landon, which include his faith, kindness, compassion, strength, and courage.
The core values highlighted in this scholarship are essential to carry students through joyful, significant, and challenging moments throughout their life. These core values allowed Landon to enjoy life to its fullest despite the adversity he faced throughout his difficult cancer journey.
Eligibility: Academic Scholarship
To be considered for an academic scholarship, all applicants must be current high school seniors. All applicants must reside in the Fargo-Moorhead, West Fargo community or within 30 miles. The applicant must also submit this completed form through the online application portal, inclusive of the following documents:
Transcripts from the applicant's current or most recently attended high school. Transcripts that have been downloaded, screenshot, or printed and scanned directly from the applicant's high school website are acceptable for the submission of the scholarship application. GPA must be included.
One Recommendation from a non-family member. The scholarship recommendation form can be found here.
Essay: How do you 'Live Like Landon Lived?' (Choose up to 3 core values, 500 words maximum) Your essay score will carry a higher weight in calculating your total scholarship score. The essay score will also be used in the event of a tie.

Kindness – Quality of being friendly, generous and considerate
Faith – Having complete trust, confidence or belief in a higher power above one's self
Compassion – Understanding and caring for others who are hurt or troubled
Strength – Emotional or mental qualities necessary in dealing with situations or events that are distressing or difficult
Courage – Strength in the face of pain or grief
Application Deadline: March 1, 2023 at 11:59 p.m.
Selection: The Landon's Light scholarship committee will review applications and award up to 10 scholarships. Recipients will be notified by phone and mail the week of April 3rd, 2023.
Awards: $1,000 one-time scholarship
Awards Ceremony: We look forward to honoring each recipient, and their family, at our Scholarship Banquet on April 30th, 2023.